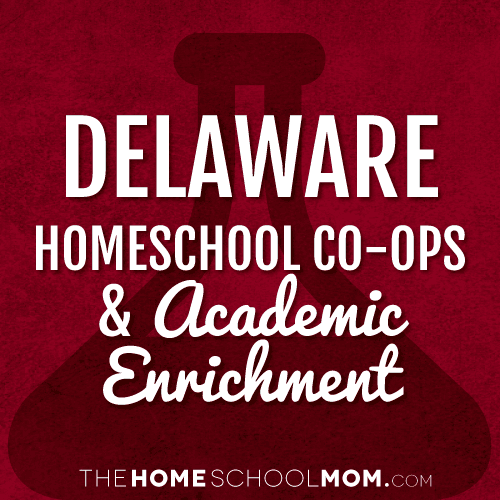 Looking for someone to teach physics to your teen? Need a way to avoid teaching algebra? Want to enroll your Kindergartener in a co-op for social time? Homeschool classes and co-ops are a great way to spend time with other homeschoolers and skill-share with other homeschool parents.
Our listing of Delaware co-ops and academic classes for homeschoolers is ordered alphabetically by city, with co-ops in the first section and all other academic resources below. If you would like to submit a Delaware co-op or academic resource, you may do so using the red button above.
Use the secondary navigation menu above to quickly make your way to pages for Delaware state organizations, local homeschool groups, classes, co-ops, field trips, and more.
Delaware Homeschooling Co-ops
DEHSchoolDelaware Statewide
DEHSchool is a Yahoo group which focuses on homeschooling in Delaware. It is open homeschooling families who live in Deleware.DEHSchool is a diverse group, homeschooling preschoolers through te...
Delaware Homeschooling Classes & Academic Enrichment
Delaware Classical ConversationsDelaware Statewide
Classical Conversations Communities exist to complement your home-centered education and connect you with like-minded families. Each community is facilitated by a trained parent-director, and class...
Historical PerformanceDelaware, Maryland, and Pennsylvania
A Historical Interpreter from Philadelphia, Dr. Daisy Century performs a one woman show of seven historical women like Bessie Coleman, Harriet Tubman, and Sojourner Truth. Contact Dr. Century throu...
Delmarva Tutoring K-12Harrington
Private tutoring lessons offered in any subject for grades K-12. Tutor is a teacher and homeschool mom who would love to help students get the best education. Curriculum guidance and assistance is ...
Towle InstituteHockessin
Towle Institute is a non-traditional school for those families seeking to educate their children in their home environment. We are a private school, incorporated in Delaware, serving home-educated ...
Maryland/Delaware/Washington D.C. Classical ConversationsMaryland, Delaware, and Washington D.C.
CC is a national homeschooling program that uses a Bible based curriculum taught in a christian, classical tradition. Classes are geared for age 4 through high school.
Family Learning AcademyNew Castle and Kent counties
(FLA), founded in 1984, is registered with the state of Delaware as a "legal umbrella" and with the IRS as a non-profit, tax-exempt organization. Presently, FLA serves families in southern New Cas...
Meet The Pharaohs Exhibition and Workshops program for school childrenPA, DE, NJ
An educational program on ancient Egypt that teaches children through creative, hands-on on various topics of this amazing culture. Topics include: *Kings of Egypt *Queens of Egypt *Jewelry and...
GEZ: Girls Empowerment ZonePhiladelphia area
GEZ is a 501(c)3 PA nonprofit program for ages 7-14. The President of this organization homeschools her children and knows that the program impact on today's young ladies.The GEZ program offers...
The Bullock Garden Project, Inc.Swedesboro
This resource can assist in building and maintaining a learning garden (outdoor classroom). Educators can also provide literature-based garden education activities for children. Through this reso...
Plus Plus Tutoringvarious locations Statewide
Plus Plus Tutoring offers private personal K-12 one-on-one in-home tutoring services. Plus Plus Tutoring offers subject tutoring, exam and test preparation, homework help, organization skills, stud...
Back to Basics Learning Dynamics, IncWilmington
Back to Basics Learning Dynamics, Inc. is a full-service educational facility, serving clients Pre-K to adult, of all levels, in 60 subjects. They provide one on one tutoring, homebound instruction...
Brain Balance of WilmingtonWilmington
Brain Balance helps children struggling with social, academic or behavioral issues. The program is designed for children with ADHD, Asperger Syndrome (ASD), High Functioning Autism, PDD-NOS, Dysle...
Back to Basics Learning Dynamics, Inc.Wilmington and Newark
Back to Basics Learning Dynamics can help you meet the educational challenges that many homeschool families face. From K-12, Back to Basics works collaboratively to ensure that your child is given ...
Tutoring Club of WilmingtonWilmington, Delaware
Tutoring Club will help your child on their way to success regardless of their skill level. Whether your student needs help with the fundamentals, math, reading, writing, or even SAT & ACT Prep...