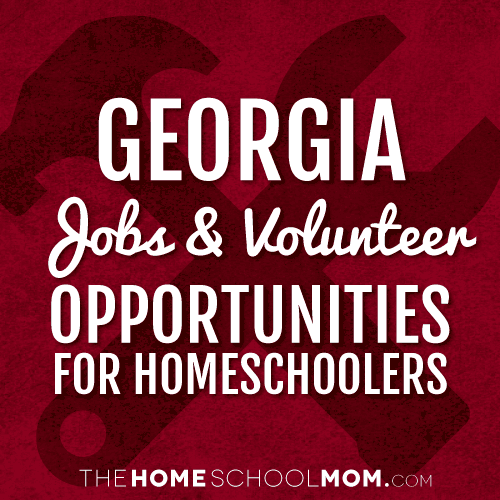 Our listing of Georgia jobs and volunteer opportunities for homeschoolers is ordered alphabetically by city. If you would like to submit a Georgia co-op or academic resource, you may do so using the red button above.
Use the secondary navigation menu above to quickly make your way to pages for Georgia state organizations, local homeschool groups, classes, co-ops, field trips, and more.
Georgia Homeschooling Jobs & Volunteer Opportunities
Pebble Tossers, Inc.Atlanta
Pebble Tossers is a nonprofit youth development organization dedicated to enriching and empowering the lives of young people through community service and leadership roles. Pebble Tossers offers vo...
Doctors Network and Associates Job OpportunityAtlanta
Doctors Network and Associates is looking for someone to work from home, 2-3 hours per day. We are a National Academic Recruiting firm. Some sales experience preferred, but not required. The posi...
DeAnna's Steak SundaesAtlanta, Charlotte, Columbia, Charleston
DeAnna's Steak Sundaes is a family run business that specializes in food concessions at county and state fairs and has been featured several times on the Food Network and the Cooking Channel....
Civil Air Patrol – Fulton Composite SquadronAtlanta/Fulton County Airport
Civil Air Patrol, Fulton Composite Squadron plans open house on April 13, 2019Altanta, GA. The Fulton Composite Squadron, local unit of the GA Wing, Civil Air Patrol, is hosting an open house o...
Natural Learning AlternativeMarietta
Internships available for Homeschool Highschoolers/college age interested in working in a Play and nature based Early childhood setting.
Capstone Restaurant Groupmultiple states
Capstone Restaurant Group is a collection of affiliated companies that operates and franchises almost 300 restaurants in 16 states through a variety of brands that include Carl's Jr, Hardee's, Taco...
Hawthorn Senior Living Dining Room ServersRiswell
Sanford Estates, Roswell's premier retirement community for active seniors, is now hiring for part-time Servers (evening and weekend shifts available). The position serves meals to residents' table...
Leopold's Ice Cream in SavannahSavannah
Leopold's Ice Cream in Savannah, GA is hiring for all positions and hours. Leopold's is a 100 year old family business specializing is Super-Premium ice cream, making tasty memories and helping our...
Retail Construction Job OpportunitiesUnited States
Prime Retail Services, Inc. provides retail fixture installation and construction all over the United States and Canada. Owned and operated by families committed to homeschooling and the advancemen...