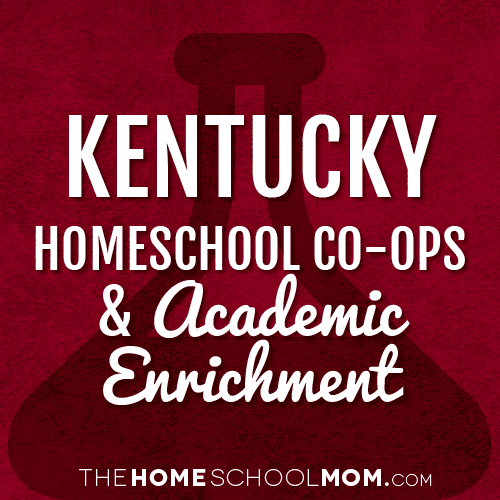 Our listing of Kentucky co-ops and academic classes for homeschoolers is ordered alphabetically by city, with co-ops in the first section and all other academic resources below. If you would like to submit a Kentucky co-op or academic resource, you may do so using the red button above.
Use the secondary navigation menu above to quickly make your way to pages for Kentucky state organizations, local homeschool groups, classes, co-ops, field trips, and more.
Kentucky Homeschooling Co-ops
Grace and Growing Homeschool co-opEkron
Homeschool co-op located in Meade County Kentucky. Supporting Grades K-8th. High school students are encouraged to volunteer to earn elective credits.
Solid Rock Christian Home EducatorsKnox, Laurel, & Whitley Counties
Solid Rock Christian Home Educators (SRCHE) is a group of Christian homeschooling families in Knox, Laurel, and Whitley Counties who come together for encouragement, support, and fellowship while a...
Solid Rock Christian Home EducatorsKnox, Laurel, & Whitley Counties
A group of Christian homeschool families coming together for support and fellowship while offering our children special skills through fun, hands-on enrichment classes, field trips and special even...
Louisville Homeschool Cottage SchoolLouisville
LHCS is an inclusive, secular cottage program that is dedicated to providing homeschooled children with opportunities to participate in educational classes with peers of the same age range. LHCS pr...
Teen Homeschool Co-op LouisvilleLouisville
Teen Homeschool Co-op Louisville. Teen group with almost 200 members for teens 13-18 years old. Teens meet for classes and social outings several times per month. Offering field trips, dances, vol...
Wellspring Homeschool CommunityMadison County
Wellspring is not just a co-op, but a growing, multifaceted community that offers field trips, special events, middle and high school socials, middle and high school academic and enrichment classes...
Kentucky Homeschooling Classes & Academic Enrichment
TinkergartenBowling Green
With Tinkergarten® and Tinkergarten Babies®, children develop, grow and better prepare through outdoor play-based learning class activities. The expert-designed classes and activities help kids age...
CISV Travel OpportunityCincinnati
CISV offers a wonderful opportunity for students who are interested in a global travel, peace-building experience. Now accepting applications for the CISV Winter Program in Argentina, Dec 28, 2019...
Austin Peay University Dual EnrollmentClarksville, Nashville, Knoxville, Memphis
Check out the Dual Enrollment program at Austin Peay University! This exclusively-online dual enrollment program is a wonderful option for homeschool students, especially those living in the state ...
Think Move Learn is partnering with Montessori Family Co-OpGoshen
Think Move Learn is a fun, movement based program that combines, occupational therapy, special education, sensory integration, and other research based techniques to promote mind and body developme...
Millennial Academy Home School DivisionJefferson and surrounding counties
All children can learn and be successful! The Millennial Academy is a new division of The Collaborative for Teaching and Learning a non-profit organization developed to improve education founded o...
Kentucky Classical ConversationsKentucky Statewide
Classical Conversations is a national homeschooling program that uses a Bible based curriculum taught in a christian, classical tradition. Classes are geared for age 4 through high school.
Gabie-the KY Agriculture BusLexington
Teaching Kids about Agriculture! Gabie is a mobile field trip that comes to you! Kids will explore Kentucky's most important crops and herds on the bus. Hands on examples of products made of our ag...
Mullins Log Cabin: Wild Herbal Identification ClassesLexington and Cincinnati
Mullins Log Cabin in Grant County, KY is offering workshops in identification of wild plants that can be used for food, medicine, & crafts. A brief discussion about living off the land in pioneer d...
Louisville Bridge AssociationLouisville
Free Bridge Lessons for children
Learning Boost Educational ServicesLouisville
Learning Boost is a tutoring organization focused on providing children with the tools they need to successfully learn and produce results academically.
Highlands Latin Cottage SchoolLouisville
Highlands Latin Cottage School in Louisville offers an affordable one-day program for homeschoolers. Classes are held on Monday and are taught by instructors from Highlands Latin School. All of the...
GradePower Learning ProgramsLouisville
GradePower Learning also known as Oxford Learning had been helping kids reach their fullest potential since 1984. Students begin with a diagnostic assessment that helps pinpoint learning strengths ...
Lost Tools of Writing I workshopLouisville, KY
This class will teach homeschooling parents how to teach junior high school/high school level persuasive essay writing using CiRCE Institute's The Lost Tools of Writing Level 1. The CiRCE certified...
Painted Stone Settlers School Day ProgramShelbyville
A hands-on field trip to the 18th century! Over 20 re-enactors have stations set up depicting fire-starting, cooking, spinning, Native American lifestyle, blacksmithing, 18th century customs, and ...
Classical Conversations of Vine Grove (Ft. Knox)Vine Grove, N. Hardin, Meade Counties
The Classical Conversations community, which meets at Valley View Baptist Church, exists to serve homeschooling families in classical education. Student meet weekly with a trained tutor to assist s...