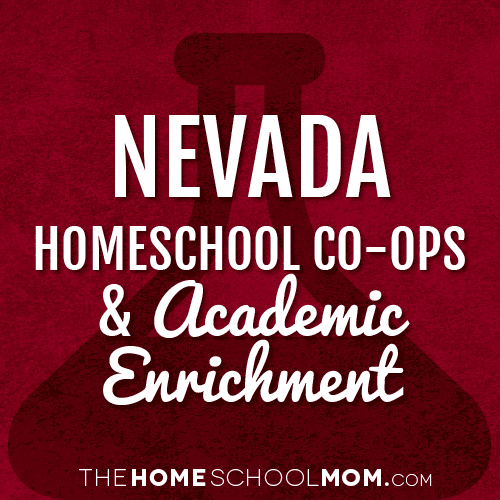 Our listing of Nevada co-ops and academic classes for homeschoolers is ordered alphabetically by city, with co-ops in the first section and all other academic resources below. If you would like to submit a Nevada co-op or academic resource, you may do so using the red button above.
Use the secondary navigation menu above to quickly make your way to pages for Nevada state organizations, local homeschool groups, classes, co-ops, field trips, and more.
Nevada Homeschooling Co-ops
Faith HomeschoolersDouglas County
A Christian Faith based co-op. Classes offered for all age children, plus classes for moms. Faith Homeschoolers also has regular field trips and get-togethers.
Eagle Home School Co-opReno, Sparks
EAGLE Home School Co-op is designed to provide cooperative and group learning experiences for our Northern Nevada homeschool community.
Northern Nevada Home Schools Co-opsReno, Sparks and Carson City
IMPACT Home-school Co-opSparks
IMPACT meets at the Sparks Nazarene Church located at:2200 El Rancho Drive, Sparks, Nevada 89431. Because IMPACT requires no annual fees for membership, joining us is as simple as registering for a...
Nevada Homeschooling Classes & Academic Enrichment
Brain Balance of NV Henderson or SummerlinHenderson
Brain Balance Achievement Centers combine physical, sensory motor activities with cognitive skills training and healthy nutrition. Complimentary fields trips include challenging, yet fun physical a...
Academy TutorsLas Vegas
Online tutoring and curriculum supplements for low monthly rates, including AP courses, foundational math and writing courses, and custom designed programs. Also offering low cost group and individ...
Drivers ed Las VegasLas Vegas
Northwest Driving School provides drivers ed both on campus and behind the wheel. Northwest Driving School has DMV certified instructors who are highly experienced and friendly. Currently offering ...
Nevada Classical ConversationsNevada Statewide
CC is a national homeschooling program that uses a Bible based curriculum taught in a christian, classical tradition. Classes are geared for age 4 through high school.
Math Tutor RenoReno
Independent math tutor in the Reno/Sparks area offering tutoring services at a discounted rate for home schoolers. Mention TheHomeSchoolMom.com for discounted rate.
Geared to LearnSummerlin
Geared to Learn understands that children are unique learners and is committed to supporting students with different learning styles by providing intervention and remediation. Shelley Kalb, M.Ed h...