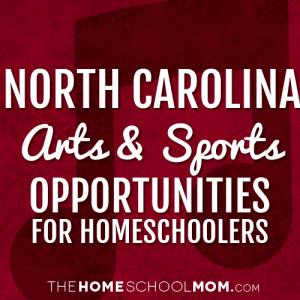 Our listing of North Carolina sports and arts opportunities for homeschoolers is ordered alphabetically by city, with arts resources in the first section and sports resources below. If you would like to submit a North Carolina arts or sports resource, you may do so using the red button above.
Use the secondary navigation menu above to quickly make your way to pages for North Carolina state organizations, local homeschool groups, classes, co-ops, field trips, and more.
Homeschool Arts Opportunities in North Carolina
After-school Art RoomAngier
Art classes for youth ages 5-12 at the Angier Parks & Recreation building. Art classes provide students with the opportunity to explore and learn through paint, mixed-medium, oil pastel, watercolor...
Spanish and French classesApex
Spanish and French classes taught by an experienced professionals. Offering private, semi-private (2-3), small group (4-5), and medium group (6-7) classes. Class Levels: true beginner (no prior exp...
Beginning Knitting and Sewing ClassesApex
Beginning knitting for ages 8+ and sewing classes for ages 12+, as well as more advanced classes. Check the website for more information.
Now offering home school music classes! Curriculum includes music history, theory, and of course instruction on instruments. Classes are grouped by age. This 10 week group class is being offered Tu...
Join the RnRHS Youth Orchestra! This program caters to string and woodwind players ages 10 and up. This class is taught and conducted by NCCU masters composition and double bass performance student...
Rock BandApex
Experience a Rock Band group class (best for ages 7+). NO experience necessary. We teach you everything you need to know! The group is broken off by preferred instrument, you rehearse your parts, t...
Glee ClubApex
oin us for a Karake experience (best for ages 6+)! During the field trip, students will work with a vocal instructor on learning a song, as well as receiving proper singing and breathing techniques...
DJ Field TripApex
DJ Field Trip (best for ages 10+) is a two-hour jam/recording session where the student becomes a DJ Superstar. Students pair up to create their own mashups using industry standard DJ gear and remi...
Odyssey Ceramic Arts Kids ClassesAsheville
Odyssey Center for the Ceramic Arts offers classes for kids.
Richmond's StudioAsheville
Fine art classes
Odyssey Center for Ceramic ArtsAsheville
Adventures in Clay, Kinder Klay, Captain Gabe's Clay Creations and Characters in Clay
Fun Piano Lessons!Asheville
One-on-one piano lessons
Asheville Community TheatreAsheville
Student Matinee performances of upcoming shows in the Fall of 2010.
Music Academy AshevilleAsheville
Homeschool families love the Asheville Music School for its diversity of offerings, fantastic instruction and ease of scheduling. Private lessons are taught on all instruments and voice. 35 Instr...
Asheville Music SchoolAsheville
Strengthening WNC communities through music education and outreach. Asheville Music School, located on Pack Square in downtown Asheville, is open 7 days a week and lessons can be scheduled any time...
H.I.S. Homeschool BandAsheville
H.I.S. Homeschool Band began in February 2013 and offers 3 levels of concert band: Beginner, Intermediate, and Advanced. Homeschooled students ages 8 and up learn how to play woodwind, brass, or ...
Voice Lessons with Claire L. Duffle (Boone)Boone, Watauga County
Voice lessons for ages 4 & up! Voice coaching for auditions and events. Healthy vocal technique to find your unique voice and help you reach your highest potential in a safe and fun environment!
Kinderdance ClassesCarolina Beach, NC
Kinderdance is a developmental ballet, tap and acrobatics program that incorporates pre-academic skills in each lesson plan. Children learn numbers, colors, shapes, letters and vocabulary while lea...
Live Spanish Classes OnlineCary
Live Spanish classes online, for beginners and intermediate students.
Private Piano, Theory or Composition Lessons at Charles Wolf StudioCary
Charles Wolf Studio is a professional, private music studio that provides high quality, technical instruction on the piano in a fun and safe learning environment with an expert instructor. This stu...
The smART Room Studio is a home art studio specifically for homeschooled students, ages 5 - 18 yrs. Classes are taught by a professional artist with a NC teacher's license for Art K-12th. Each clas...
ART of StemCary
Weekly Art of S.T.E.M. Classes = Focus on a large array of art projects chosen to specifically expose and interest children in science, technology, engineering, and math.*New camps are featured...
Chapel Hill School of Musical Arts Acting ProgramChapel Hill
The Acting Program (TAP) at Chapel Hill School of Musical Arts is a year-round actor training program for students of all ages. Students in TAP attend weekly technique classes where they develop es...
Balanced Music StudiosChapel Hill/Durham/Pittsboro
Looking for private voice or piano lessons for your homeschooled student? Balanced Music Studios offers professional one-on-one instruction in-home or in-studio for every level and age! Whether y...
Home school ceramics classesCharlotte
Students merge energy, creativity, imagination with studio equipment to produce FUNctional Seasonal, clay projects! Beginners learn! Advanced students encouraged to explore! Kids 6 years and up inv...
music4life – Music Classes & KindermusikCharlotte
Music4life presents an innovative approach to music education for all ages by integrating the most up-to-date research concerning music and human development to provide a well-planned, age appropri...
Charlotte Academy of Music Music ClassesCharlotte
Welcome to Charlotte Academy of Music, a privately owned music school providing music instruction for students of all ages in a fun and professional environment.We are proud to be a licensed Mus...
Rock UniversityCharlotte
Music Lessons- Performance Band LessonsIndividual Lessons Guitar Bass Drums Vocals Keyboards Performance based music lessons. Existing Band Improvement with Professional Artist. Band Rehearsal S...
Portfolio PrepCharlotte
Expert portfolio instruction for homeschool students who dream of attending Art, Fashion, or Design School. Lore Emelio Design Studio is the perfect place to get started. Providing step-by-step ins...
Clarkson Music StudiosCharlotte
Private Lessons in Drum Set, Piano, Voice and Songwriting as well as homeschool classes.
Dedicated Homeschool Ceramics ClassesCharlotte
The Matthews Community Center has collaborated with Arts Delivered to offer home school groups ceramics classes. Classes will be ongoing.
Arts Delivered Homeschool ClassesCharlotte
Offering ceramics and mixed media classes at McDowell Art center in Matthews. Classes are held Wednesdays in January.
Bold MusicCharlotte
Bold Music offers private, in-home music lessons for a variety of disciplines: everything from guitar to piano, voice, drums, music production, and more. Learn more at

Sanoon Violin AcademyMatthews

Summer group lessons. In-home Group lessons available as well as private in studio lessons.

Matthews Playhouse of the Performing Arts Homeschool ShowsMatthews

Homeschool Days at Matthews Playhouse allow homeschoolers to attend daytime school shows at a discounted rate. Bringing your group to a Matthews Playhouse school show performance will enhance and s...

Fine Art & InterArts Classes with Wild Root CreationsMatthews/South Charlotte

InterArtist Jen Haefeli, owner of Wild Root Creations, teaches private and group art classes weekly. Each class covers a studio art, musical performance, performance art, historical discussion, s...

No Limits Dance CompanyMonroe

No Limits Dance Company is a dance studio catering to ages 2 and up! Offering Ballet, Tap, Tumbling, Lyrical and Hip Hop Classes! Come dance with us!

In His StepsMooresville

Dance classes for girls 6th-12th grade. Performing arts ministry for girls.

Reed the MusicMooresville

Reed the Music offers one-on-one lessons in piano, flute, guitar, and record er for students of all ages in Mooresville, NC. Lessons include performance, technique, music theory, sight-reading, ear...

Cara Bailey StudiosMooresville

Art studio owned by local artist with art education certification and experience! Group classes available as well as private courses for enrichment or home school students. Flexible availability!

Music FunMooresville, Lake Norman

Music history, music appreciation, and private music lessons for guitar and piano. Music Fun is available for classes and individuals. Instructors hold degrees from Berklee College of Music and Pet...

ARTHOUSERaleigh

ARTHOUSE, is an art studio for children focusing on teaching artistic creativity through the combination of sensory stimulation (sound through music, sense of touch, smell, taste and sight). Medium...

Raleigh PianoRaleigh

In-home piano lessons for those in the North Raleigh area. Now accepting new students!

Kid Lab RaleighRaleigh

Kid Lab is a play space and art studio in downtown Raleigh, NC. Kid Lab offers unique indoor and outdoor stations suited for creative play and maximum learning. Classes are intentionally small an...

Erin Bartow's Scottish Highland DancersRaleigh

Scottish Highland Dance Classes available all ages. A wholesome and traditional dance form. Instructors travel and teach classes at different Co-Ops around the Triangle as well as teach in Studio...

Falls River MusicRaleigh

Offering private and group Music Lessons for Guitar, Drums, Piano, Voice, Violin, Woodwinds and Brass, and more. Most lessons are conducted at the Music Lesson Studio in N Raleigh, but special Grou...

Robertson Music StudioRaleigh

Private instrumental lessons all ages! Piano, bassoon, flute, clarinet, saxophone and beginning brass. 30, 45 and hour lessons available!

Raleigh Boychoir, Inc.Raleigh

The Raleigh Boychoir was founded in 1968 and has become a cornerstone of the Triangle arts scene. The mission of the RBC is to train school-aged boys in the art of choral singing and keep them sin...

Flute LessonsRaleigh

Marissa Rose Stygles is a classical flutist who performs and teaches in the beautiful City of Oaks: Raleigh, North Carolina. She is an experienced flute teacher with a Masters degree from the Cleve...

Raleigh Music AcademyRaleigh

The Raleigh Music Academy offers quality music instruction for guitar, bass, piano, voice, banjo, mandolin, and voice. Also, occasional clinics and workshops are hosted with artists from all over...

Flour Power North HillsRaleigh

Flour Power North Hills is a local cooking studio that caters to a wide range of ages, from preschool children to adults. In addition to parties, classes and special events, Flour Power works clos...

Body & Brain Yoga Kids ClassesRaleigh

Can provide "power brain" yoga group classes for children ages 5-14 with or without moms/dads. These classes help children develop physically with yoga and tai chi training within an environment wh...

Carolina Youth Dance AcademyRaleigh

Carolina Youth Dance Academy is a 501c3 that provides free dance lessons for all youth of all abilities inclusive of youth on the spectrum and youth with special needs. We teach all together and of...

Bach to Rock Homeschool ClassRaleigh Triangle Area

Offering a homeschool music experience! Students will meet every Monday from 1-2:00 pm. It's a twelve week curriculum: the first four weeks piano, four weeks learning guitar, three weeks learning...

Music LessonsRaleigh Triangle Area

Offering private, semi private and group classes. Private/semi private lessons for brass, woodwinds, percussion, strings, and voice. We offer a discount of 20% if lessons are schedule on Tues / T...

Suzuki Violin and Piano Lessons (private+group)Raleigh, North Carolina

Certified Suzuki Instructor, Meredith Mitchell, has built a robust private music studio practice with 30 violin and piano students over the last 5 years. In addition to piano and violin technique i...

Junior Potters Lessons and WorkshopsSouth End, Charlotte NC

Offering 2 different Junior Potters Experiences:~~~Junior Pottery Explorers – 6 Week Class – This is a great class for kids ages 6 to 16. This class introduces them to clay, the potters wheel,...

STARworks After School ProgramStar

STARworks after school programs are designed for motivated high school students who want to pursue artistic opportunities that are not readily available in typical high school settings. Instructors...

Destiny Dance InstituteWake Forest

Dance classes for all ages! Come experience the difference.

The Artful MindWake Forest

The Artful Mind is a unique fine art education program for children.

Players of the BardWake Forest

Providing Theatrical Education for Homeschoolers in the Wake Forest and surrounding areas, by teaching weekly classes, and a production each semester. No experience necessary for students ages 12 ...

Wake Forest Community Youth OrchestraWake Forest, Youngsville, Wendell, Zebulon, Raleigh, Wake County, Durham County

Students will be introduced to the fun and rewarding world of violin playing! Students will learn to play with proper technique, read notation, and make music with their friends once per week. This...

Capital Christian Homeschool BandsWake Forest/Youngsville/Franklinton

Capital Christian Homeschool Bands offers a comprehensive wind band program in a Christ-centered environment for homeschooled students ages 9 to 18 (grades 4-12) in the Wake Forest/Youngsville, NC ...

Private cello instructorWaxhaw

Lessons are tailored individually for students of all ages accommodating beginners to advanced students. University music majors, who are looking for additional coaching or a Master Class setting t...

Pulp and Pigment StudioWendell

Pulp and Pigment is an art studio in downtown Wendell. We practice the TAB (teaching artistic behavior) method of teaching visual arts. This means that your child will gain the tools necessary to m...

Affordable Community Flute LessonsWillow Spring

Flute lessons for all ages. Students will learn to play the flute read music and read rhythms. Flexible times.

Kids YogaWilmington

Kids Yoga classes are a special opportunity to provide your child with life-long skills that will give them a sense of calm, balance, and power!

Grace Note Music StudioWilmington

Piano lessons offered in private studio for students of all ages. Music theory, composition, technique, ear training are taught in a fun way and personalized to help the student develop their own ...

Greater Glory Worship ArtsWilmington

Greater Glory offers affordable homeschool and after-school artistic instruction. $40/8-week session. Offering classes in: Painting, Drawing, Drama, Dance, Videography, Photography, Musical Instrum...
Homeschool Sports Opportunities in North Carolina
Apex Martial Arts Center is a family-friendly martial arts center in Apex, North Carolina offering world-class instruction in Kickboxing, Brazilian Jiu-Jitsu, Karate, and Judo for all ages and skil...

Kung Fu for Kids and TeensAsheville

After school Kung Fu classes teaching Internal Martial Arts with an emphasis on positive choice making and martial values rather than on fighting. The styles at the school include Praying Mantis, X...

Brazilian Jiu Jitsu ClassesAsheville

Brazilian Jiu Jitsu instruction for self defense as well as sport. Ask about group classes, private instruction or both. Come see why this martial art is the most effective as well as the safest ma...

Equine Studies/ Breeding InternshipBahama

Hidden Hill Farm working student program for homeschoolers is going into its 7th year. The program was originally started in 2001, and later converted to a homeschool program. This program provides...

Appalachian Ski MountainBlowing Rock

French-Swiss Ski College at Appalachian Ski Mountain has Homeschool days at specific dates throughout the winter. Homeschool families can get an 8 hour slope pass, equipment rental and a 1 hour gro...

NC Lions Sports OrganizationsBurlington

Highly Competitive Home school Sports that compete against other home schools, charter schools, private schools, faith based institutions, and some public schools. This level of sports is just as c...

Sports ConnectionCharlotte

Sports Connection offers a variety of entertainment and sports activities. For Home School families, we have a physical education program. The PE class meets once every week for 2 hours. Age range ...

Charlotte NavigatorsCharlotte

A homeschool sports program, for middle school boys basketball and cross country, in the greater Charlotte area. Boys between the ages of 10-13 who homeschool are eligible to participate. Gaston Co...

Homeschool Martial Arts ClassesClayton

Martial Arts for Homeschoolers offers Fun, Fitness, and Family Values. Parker's Martial Arts Academy offers special Homeschool Martial Arts classes and programs for students to fit your family's n...

Research Triangle FencingDurham

Get in touch with your inner Jedi, musketeer, ninja, or pirate, by trying fencing - the modern Olympic swordplay sport! Our homeschool programs emphasize problem-solving and sportsmanship while int...

Forsyth Home Educators (FHE)Forsyth

Forsyth Home Educators (FHE) is a Christian support group located in the heart of North Carolina representing more than 400 families that educate their children in the home.

Sword Circle-LLCGarner, Wake county

Sword Circle-LLC, an educational program teaching the art and history of Medieval Combat, is owned by Alex Foster, a home school graduate of 2008. Archery, Sword fighting, Self-defense, Arts & Craf...

SoccerOPGreensboro

SoccerOP began as a winter programming soccer company in 2003, as a way to facilitate the lack of soccer between fall and spring seasons. Currently, SoccerOP provides once and twice-weekly physica...

GC Heat-Guilford County Home Educators Athletic TeamsGuilford County and surrounding area

The GC-HEAT association has been organized to provide homeschooled students in Guilford County with competitive athletic opportunities comparable to publicly and privately educated students. GC He...

Homeschool Gym ClassesIndian Trail

GSS (Global Sports School) offers recreational gym classes as well as sports performance training for homeschool students in grades K-12. Gym Classes will be on Mondays and Thursdays, from 11am-12:...

Traditional Shorin-Ryu Karate-Do of RaleighRaleigh

Traditional karate of Okinawa taught to ages 6 and older. Program is designed to improve coordination, confidence, self-esteem, and physical fitness. Self defense and bully prevention are key comp...

Special Taekwondo for Homeschoolers in the Raleigh area (RTP area)Raleigh

Taekwondo is a perfect activity for your Homeschooler. Our studio is located in Raleigh close to Cary and Apex. We have a specific time and day for training and working with Homeschool students. ...

Body & Brain Yoga Kids ClassesRaleigh

Can provide "power brain" yoga group classes for children ages 5-14 with or without moms/dads. These classes help children develop physically with yoga and tai chi training within an environment wh...

MSR JV and Varsity SportsRaleigh/Durham/Chapel Hill

The Montessori School of Raleigh looking to invite home school students to play on our 8th, 9th, 10th, and 11th grade sports teams for the 2018-2019 school year. Offering the following sports: co-e...

Homeschool Horsemanship ProgramReidsville

This is a once a month 2 hour group horsemanship class for 1st grade and up. One class meeting on Tuesday and another class meeting on Wednesday. 1 to 3PM. $25.00 plus one-time $10.00 enrollment...

Air Fun Trampoline ParkTriad Area

Homeschool families use Air Fun Trampoline Park to satisfy their PE requirements. The dedicated Home School time is an excellent way for families to collaborate, connect, network and share and give...

Red Zone Razors Wrestling ClubWake Forest

Wrestling club providing instruction and competition opportunities in Folkstyle, Freestyle, and Greco Roman styles of wrestling. ​Youths in grades K - 12th welcomed. Wrestling benefits children as...

Reed's Home School Karate & ActivitiesWaxhaw, Marvin, Weddington

Reed's Academy has over 8,000 Sq ft of Indoor & Outdoor space to allow Home Schoolers to feel like they have their own school. Reed's Home School Karate has individual classrooms for age separa...