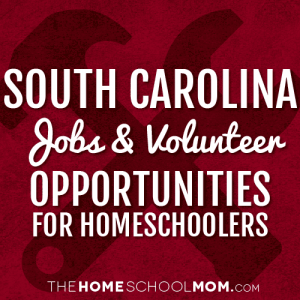 Our listing of South Carolina jobs and volunteer opportunities for homeschoolers is ordered alphabetically by city. If you would like to submit a South Carolina co-op or academic resource, you may do so using the red button above.
Use the secondary navigation menu above to quickly make your way to pages for South Carolina state organizations, local homeschool groups, classes, co-ops, field trips, and more.
South Carolina Homeschooling Jobs & Volunteer Opportunities
SNO CAP RestaurantAugusta
SNO CAP has open positions for servers, cooks, and a floater between the kitchen and service areas. Applicants must be at least 16 years old. These are part-time positions with a normal shift six h...
Friends of the Greenville County Library System Used Book WarehouseGreenville
If you love BOOKS, this is the place for you. On Tuesdays and/or Thursdays from 9 am to 12 noon, books which are donated by the public as well as the Greenville County library are sorted, priced, s...
Rolling Green VillageGreenville
Rolling Green Village is looking for serversAre you a friendly, upbeat, and an energetic person? Can you work 4pm-8pm during the week and 9am-3pm on the weekends? Starting pay is $10.00 pe...
Retail Construction Job OpportunitiesUnited States
Prime Retail Services, Inc. provides retail fixture installation and construction all over the United States and Canada. Owned and operated by families committed to homeschooling and the advancemen...
Subway Restaurants # 4768, 23639, 17477, 7342, 29588-1, 29588-0West Columbia and Lexington
Now hiring outgoing, honest, hardworking part-time employees, Flexible hours and a great work environment. Free employee meals! No experience required, we will train you. Applicants must be able t...