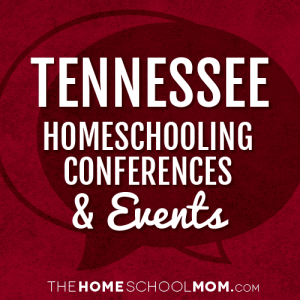 Our listing of Tennessee conventions and other homeschool events is ordered by date with ongoing events listed first. If you would like to submit a Tennessee homeschool convention or event, you may do so using the red button above.
Winter Science CampMurfreesboro
February 4, 2019 - September 8, 2019
Calling all homeschooling parents! We've got a Winter Science Camp for homeschool students (ages 7-10) coming up February 4-8 from 10:00-2:00 each day. Check out our website or call 615-217-3017 fo...
Code Ninjas Homeschool WorkshopWilliamson County
March 2, 2019
Code Ninjas is hosting a Homeschooler Workshop. Bring your child for a free game building session in our dojo Saturday, March 2nd, at 2:30 PM. We are new to the Williamson County community and are ...
SE-YA Book FestMurfreesboro
March 9, 2019
SE-YA Book Fest is a FREE one-of-a kind of event that will take place in March of 2019 on the campus of Middle Tennessee State University in Murfreesboro, TN. It is designed to place teens and auth...
Teach Them Diligently ConventionNashville
March 28, 2019 - March 30, 2019
Homeschooling in Tennessee? Attend the Nashville, Tennessee Homeschool Convention!Thousands of families have described Teach Them Diligently as the highlight of their year! If you have never be...
HomeschoolConnect ExpoOnline
March 28, 2019 - March 30, 2019
During this 3-day event in March, join a great variety of vendors for an opportunity to see the latest and greatest products available, a chance to review materials and make purchases for the next...
MTHEA Teen BanquetNashville
April 26, 2019
All high school students, grades 9 - 12, are invited to attend the annual MTHEA Teen Banquet. The evening includes a formal dinner, coffee bar, recognition of graduating seniors, and entertainment ...
MTHEA GraduationNashville
May 25, 2019
The MTHEA Graduation will be at Christ Church, 15354 Old Hickory Blvd., in Nashville.
CSTHEA Homeschool ExpoEast Ridge
July 20, 2019 - July 21, 2019
Enjoy the South's leading homeschool exhibition on July 20, 21.