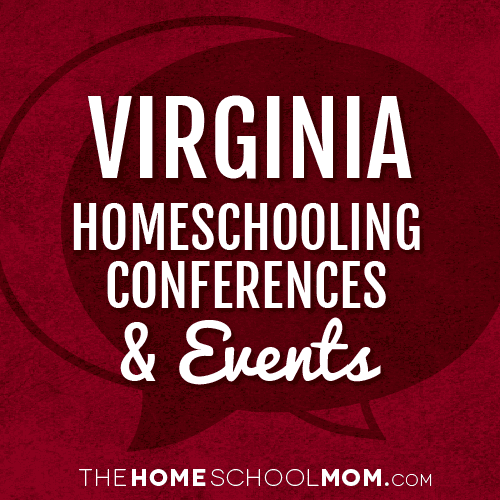 Our listing of Virginia conventions and other homeschool events is ordered by date with ongoing events listed first. If you would like to submit a Virginia homeschool convention or event, you may do so using the red button above.
HomeschoolConnect ExpoOnline
March 28, 2019 - March 30, 2019
During this 3-day event in March, join a great variety of vendors for an opportunity to see the latest and greatest products available, a chance to review materials and make purchases for the next...
James Madison's Montpelier Homeschool DayCharlottesville
April 1, 2019
Enjoy a day at Montpelier designed specially for homeschooling families. Participate in these special events: Take a guided hike of the old growth forest, sit in on the Constitutional Convention, r...
Storytime at the National Law Enforcement MuseumNorthwest Washington
April 3, 2019
Children can meet a retired police officer during the Storytime program at 11 AM on the first Wednesday of each month. The officer will read a book and a museum educator will lead a hands-on activi...
Solutions to Climate ChangeFredericksburg
April 6, 2019
Fossil Free Fredericksburg is holding a high school and college student-led conference, Solutions to Climate Change, on Saturday, April 6th from 1:00 - 5;30 p.m. This free conference will be held a...
Ikebana International Washington D.C.Alexandria
April 13, 2019
Ikebana International, Washington, DC, Chapter No.1, is a non-profit, cultural organization based in NOVA. Ikebana is Japan's Flower Art. We are hosting an IKEBANA FOR KIDS Workshop, April 13, 20...
Adventures in WonderlandReston
April 26, 2019 - May 12, 2019
Adventures in Wonderland is an interactive, play based event that follows the story of Alice in Wonderland. Managers have recreated key scenes with larger than life props and play spaces. With an e...
Science SaturdayNorthwest Washington
April 27, 2019
Visit the Museum for a fun-filled afternoon of science activities in the Learning Center. This month's theme is Pollen, Spores, and Insects. Solve a crime using plant and insect evidence, dissect a...
Home School Program: Life on a 19th Century FarmFalls Church
May 8, 2019
Children will tour the farmhouse and barn to learn how technology of the day made life easier for the 19th century farmer. Hands-on activities include identify tools a housewife would have used in ...
LDSHE Home Education Conference EastWilliamsburg
May 15, 2019 - May 17, 2019
Supporting, Strengthening, and Inspiring Home Educators! Has a corresponding Youth conference for students. The LDSHE East 2019 Conference will take place at the DoubleTree Hotel and Conference Ce...
Family Camp at Holiday Lake 4-H CenterAppomattox
May 27, 2019 - May 31, 2019
Family camp, an annual event at Holiday Lake 4-H Educational Center in Appomattox, Virginia. Family camp offers the chance for family members to bond with each other while at the same time experien...
HEAV Virginia Homeschool ConventionRichmond
June 6, 2019 - June 8, 2019
Homeschooling, or considering it? Get the information and inspiration you need at the 36th Annual Virginia Homeschool Convention, Home Education: "Live Freely, and Lighty" at the Greater Richmond C...
Immaculate Heart of Mary National Home School and Parent ConferenceFredericksburg
June 14, 2019 - June 15, 2019
The largest Catholic homeschooling conference in the country. Location: Fredericksburg Expo and Conference Center. 2371 Carl D. Silver Parkway. Fredericksburg, VA 22401
National Fossil Day at the National MallWashington D.C.
October 16, 2019
Come enjoy a National Fossil Day celebration experience at the National Mall where nine National Fossil Day Partners will be hosting activities and exhibits.Partner activities include:Natio...
US Science and Engineering FestivalWashington, DC
April 22, 2020 - April 23, 2023
The mission is to stimulate and sustain the interest of our nation's youth in science, technology, engineering and math (STEM) by producing and presenting the most compelling, exciting, and educati...